Joaquim Barbosa made history in 2003 when he became the first black Supreme Court Justice. He is a man who came from nothing and fights for the poor and and focusses on stopping the corruption that happens within the Brazilian government. He is a surprise candidate for presidency as he announced that he was running very late. In the first poll conducted on April 15 he was put at 10% of the vote. This was surprising as he has done very little campaigning as well as his lack of notoriety amongst voters. Barbosa being the wild card of the election is taking part of an election that in considered to be one of the most unpredictable in Brazil since the mid 1980s. The man who leads in the polls is Jair Bolsonaro. This is extremely controversial as he was recently charged with inciting racism and discrimination against blacks. This is everything that Barbosa is against. Barbosa is an advocate for the poor and colored community while Bolsonaro fights for the common person.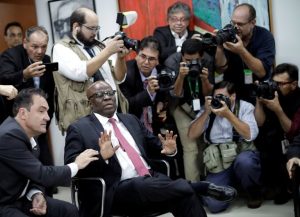 Barbosa was raised in the poor city a Paracatu in the Minds Gerais State. His father worked as a brick layer and worked for a short time as a janitor in the courtroom of Brasília. He was also the only black student in his law school class at the University of Brazília. While he looks like a candidate that can speak for the common person as well as all the minorities in Brazil people fear that if he is elected the state of Brazil may be unstable. The support for Bolsonaro comes from this fear as people are afraid of crime. Miguel Oliveira a 47 year old maintenance worker had this to say about Barbosa: "He at least knows what it means to be poor in a country where politicians are stealing all of the money." While his values are something that many people would want his lack of experience in politics and very little connections within the government make it a stretch that he would get the support for presidency.
Brazil is once again pictured as a broken country that deals with problems of race, corruption, and a lack of support for the poor community. While you see Barbosa making steps in the government as a back man it is still very evident that he will need more people to be open to the idea that he is running. They are however portrayed as showing that they are making progress and want to make change. This will all be up in the air however as the election comes up this October. This election can help bring Brazil further or take more steps backwards in the wrong direction.
This fits into the class scheme as this race has a lot to do with race issues within Brazil as well as corrupted politicians. The leader of the initial poll has had many issues with the law including racism and corruption yet he still leads the polls due to the fear and stability of Brazils government. If Brazil wants to take a step towards a corruption free government and help bring a voice to the minorities and local people Barbosa seems like a candidate that should pick up traction. While he lacks experience and connections his values and blunt attitude towards these issues should be enough to make him a real candidate.
Source: https://www.nytimes.com/2018/04/20/world/americas/joaquim-barbosa-brazil.html?rref=collection%2Fsectioncollection%2Famericas&action=click&contentCollection=americas&region=stream&module=stream_unit&version=latest&contentPlacement=17&pgtype=sectionfront